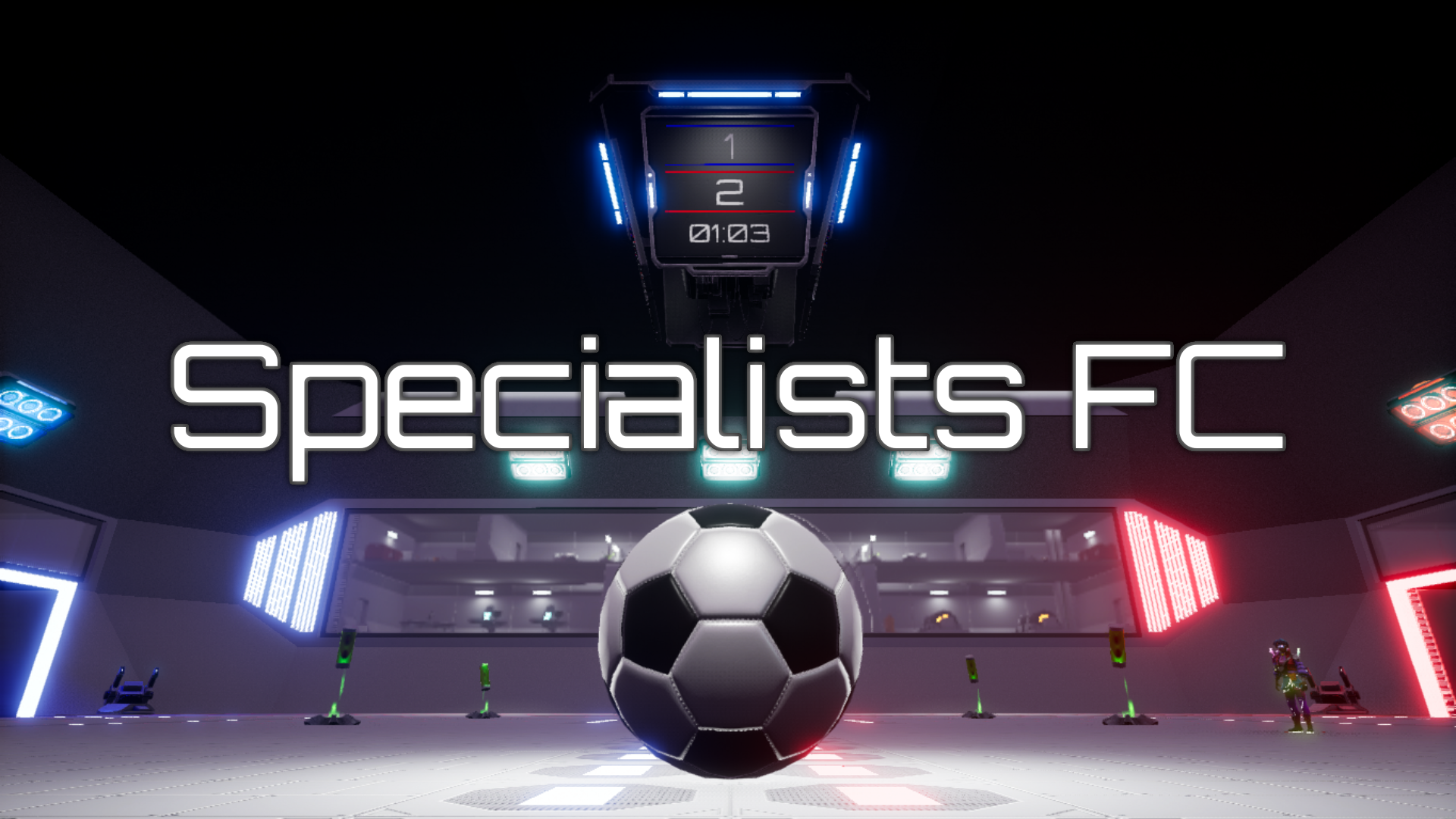 Specialists FC
Play Here https://launch.crayta.com/play/z7amhe8r

For the Crayta July 2022 - Mega Game Jam - 'Champions'
Choose your Specialist to compete in a football match like no other. Each specialist has two abilities to manipulate either the ball, the stadium, other players or themselves. Choose wisely!
About My Game
Welcome! This is my first game created in Crayta.
I remixed a game called "Crayta Soccer" by Daigoro, which is a football/soccer game. I remixed this game and made it my own. Below is a list of everything I have done.
For the Champions theme I have added four specialist characters for you to play as.
Each specialist has 2 abilities.

Speedster

Super Speed (Increases your sprint speed)
"Stuck in the mud" (Slows down (sprint speed) of the other team)

Hopper

Increases your jump multiplier
Make the ball bounce up (Too avoid a player or score a goal)

Teleporter

Teleport yourself to the other end of the stadium
Teleport the ball to the other end of the stadium

Tilt

Tilt the stadium to the side, to make the ball roll in the opposite direction
Tilt the stadium downwards towards the opposition goal.

Each specialist ability will last from 5 -10 seconds with a 30 second cooldown.
You can select your specialist in the lobby
I have increased the size of the football and removed the kicking features. Just move the ball with your character
I have added 3 goals in both ends of the stadium.

The lowest goal, bronze, equals 1 goal
The middle goal, silver, equals 2 goals
The Highest goal, gold, equals 3 goals

I have added a new stadium with a new pitch, scenery and ramps to reach the higher goals.
I have added a new lobby area.
I have created a radio that play different music tracks every 2 minutes. Keeps things fresh.
I added a results camera
Players positions now reset when a goal has been scored
Removed team score adjustments
Fixed ball spawning and despawning infinite loop bug
Improved spawning by removing redundant code
Improved goal messages. Made them shorter and more inclusive.
Fixed the scoring bug where the score could be a decimal number
Fixed the own goal scoring bug that meant a teams score would decrease and go into missus numbers
Removed custom packages
I have learnt so much from this game jam. My game is not perfect. I ran out of time to fix a few bugs and improve a few features but I will keep updating this game in the future. I had some much fun making this game and I hope you have some fun playing my game. Thank you Crayta!
Current Version: [Alpha] [0.40.0]