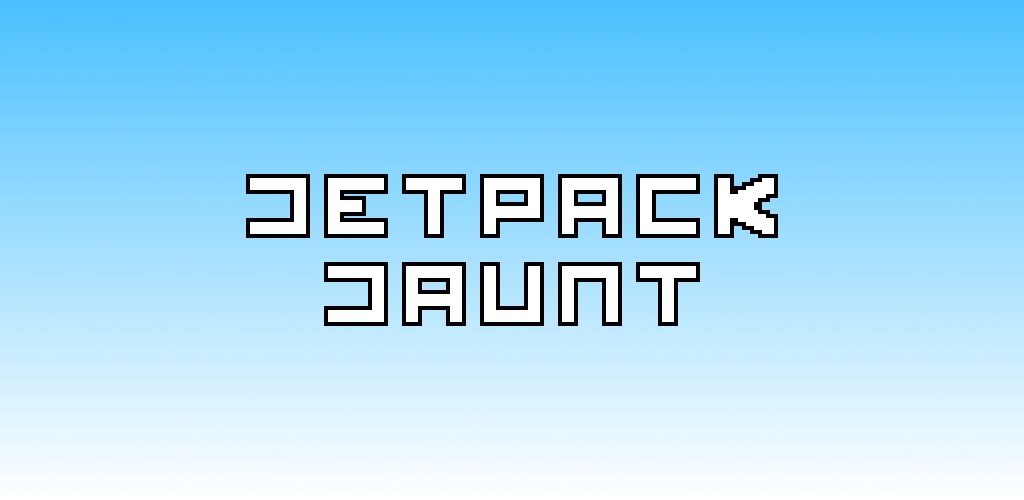 Jetpack Jaunt
Collect. Avoid. Unlock. Be #1.

10 Colourful Suits to collect!
This is my first game I have created and released. Each update includes new elements of game development I have learnt. You can follow my journey in the Dev Log.
I hope to add many more features such as: more suits to unlock; different characters to play as; audio; IOS release.
4.1.0.0
* I finally fixed the weird pixelated screen bug that appears at the start of the game on only a handful of devices! Sorry if you experienced this issue :( I could not reproduce this bug on my own devices and received no bug reports, which made it difficult to fix.
* Coins are now slower and spawn quicker. This should make gameplay easier!
* Spawning Missiles and Coins is now smoother
* Added New Best Score Animation
* Updated Tutorial
4.0.4.0
* Added Tutorial
* Added Title Animation
4.0.2.4
* Added a Cut Scene which appears when the player unlocks/buys a suit.
* Added share feature to allow players to share there unlock achievements.
* Change : Video ad now appears every 3 games instead of 2.
* Change : Watching reward video to earn coins now returns 39 coins instead of 20 coins as a reward.
* Change : Reviewing the app now returns 39 coins instead of 20 coins as a reward.
* Change : Unlocked/purchased suit will automatically become selected suit.
4.0.0.0
* Jetpack Jaunt has been recreated in Unity!
* Particle Systems
* New Dawn Suit
* 2 New Suit Backgrounds
* Gameplay Tweak's
* U.I Improvements
* Tip Jar Feature
* New Ad System
* Unsaved Progress Will Not Transfer to this Update.
Available on